The Lemon House is our Guesthouse in Ogliastra on the east coast of Sardinia from which we provide bed & breakfast accommodation and specialist support for climbing, road cycling, mountain biking, walking and kayaking.  It takes 15 minutes to walk to the sea, and 10 minutes by car to the nearest climbing. We named the house after the lemon tree in the garden with produces fruit all year round in our mild climate. If all this activity seems too tiring and you just fancy chilling out and going to the beach, you're equally welcome!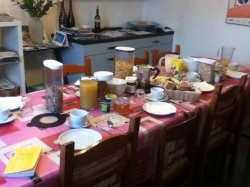 We have no garden but we have a roof terrace which is one of the highest in the village from which you can see the sea, the mountains and the entire Ogliastra area. We have a dining room where we enjoy breakfast together with the guests, nothing fried but a good healthy meal with cereals, toast, home-made jam and marmalade (made with our own lemons of course) as shown in the photo on the left. We do have strong Italian coffee but we have proper English tea as well.
The Lemon House
The Lemon House
Our facilities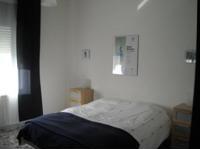 The Lemon House has 4 big bedrooms: Double/twin ground floor with an extra 3rd bed on request, en-suite bathroom, full wheelchair access; Double/twin first floor, en-suite bathroom; Two double/twin rooms second floor (see photo), shared bathroom. On the ground floor we have the dining room, also fully wheelchair accessible. We have a wireless broadband network if you need to use your PC to check your email or simply upload your fantastic holiday photos. For those who stay more than a couple of days, you are welcome to use our washing machine so you do not need to bring too much stuff.
We charge €30-37 per person per night for bed and breakfast depending on size of group (€4 per night single supplement, 10% discount for more than 4 adults for 4 or more nights) and en-suite or shared bathroom facilities. Minimum stay 3 nights, 5 nights for groups occupying all 4 rooms. We charge 50% of the adult prices for children aged 4-11 , kids 0-3 are free. From end July – end August we make a slight increase to these prices for the Italian summer holidays. For deposits see Terms and Conditions. For lunches local supermarkets and bars do sandwiches for only a few euros, and in the local restaurants you can eat a pizza and beer or pasta and a main course for only €10 or have a 3-course meal with wine for €20-30 per head.
Help with logistics included
In The Lemon House, with our local knowledge from years of living in Ogliastra and doing our sports, we can help you get the most out of your holiday. You can hang out and browse our wide selection of guidebooks, maps (incl 1:25000 and 1:50000 IGM maps) and information on Sardinia and Ogliastra. We have a 9-seat Renault Trafic, and can drop you off or pick you up after walks or climbing.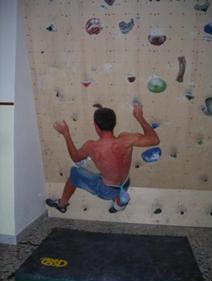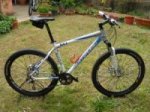 Climbers: we have a 100 sq-ft bouldering panel inside for rainy days, see photo on the right; you can also use our fingerboard and campus board and crashpad for bouldering. We have Climb On cream for sale, as well as some very cool Italian climbing clothes designed for and by climbers, the DOGMA range. Cyclists and mountain bikers: we can  pick up you and your bike boxes from airports if you don't want to hire a car or take the bus, and we can also drive you up to nearby Baunei or Talana to avoid the initial climb. Local drop-offs are free. We charge  €180 for each airport transfer taking 4-5 people + bikes, see also Getting to Sardinia. We can organise bike hire (road/hardtail mountain bikes €25 per day for the days you actually ride, see photo above – agribike-ogliastra.it/  Melina 333 2585096 Clait 338 3554721 email; Full-suspended MTBs €35 per day, €210 per week Mtb Sardinia Francesco 348 9369401 348 9369401 email (Francesco is also a MTB-Guide) if you don't want to bring your own bike. We wash your kit and encourage you to keep your bike in your bedroom—being cyclists ourselves, we know how important these things are. For mountain bikers, if you want, we can lend you a Garmin GPS with mountain bike routes loaded, as well as maps and descriptions. Selvaggio Blu: for the specialist logistic support for the Selvaggio Blu (buying fuel in advance, organising and providing transport for those without a car, taking you to leave water along the route or organising to do this by boat, advice on the route to help planning, as a point of contact when you are on the trek with phone/SMS support, loan of GPS with route, taking you to the start at Pedra Longa / Us Piggius and picking you up from Santa Maria Navarrese at the end after the return trip by boat, which we organise) we charge €45 per person staying with us, minimum €150. This price excludes the return boat ride.
FINDING US See the map below,  or insert our coordinates into your GPS/satnav WGS84 39.970608, 9.665501 +39° 58′ 14.19″, +9° 39′ 55.80″ or better still (many GPS navigators don't have the best routes in their software) download the instructions to find us by car from the airports.