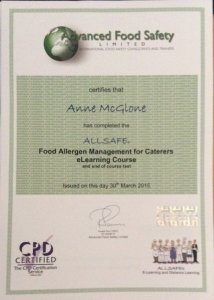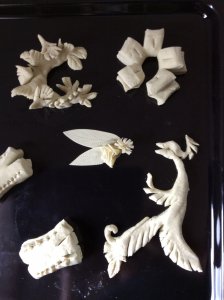 There are 14 food ingredients which are quite likely to cause a severe reaction if someone has an allergy to them. Peanuts was no surprise but celery ?? Anyway, now I know what they are and have the certificate (see left) to prove it. This is because as of this year, we have a new law which states we have to display any possible food allergens in the food we provide. Who would have thought a carrot cake could be so risky….. Thanks once again to Advanced Food Safety in Wigan for their helpful course.
I have had a thorn in my thumb for 3 weeks. Today I tried to dig it out but it is still there. I should never touch the pot plants without gloves….. I am still on the bread making course and finally made some at home (see photo right). It looks nice but is a bit hard really…. I had a weekend in Rome due to Peter's teeth, he had to go to the dentist and since there were no guests for the weekend, I went too. It was as glorious as always.
Now the Lemon House is full again with a delightful group of walkers from Scotland and Yorkshire, our accents are growing stronger by the day. The weather is nice now and some of the hardier guests have already been swimming. Any day now I will brave it.