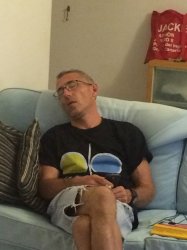 Another long gap, oh well. August was very hot in Sardinia and we were pretty busy, although it is never our busiest time as it is really too hot for MTB and even walking is hard. The nice part is that Chris and Judith, our dear friends from UK, come to Cala Gonone and Peter can go climbing with someone he really knows well. Judith and I are close now too and I love to hear how her three kids are getting on and what is happening at the school where she is Head teacher.
And then suddenly it was September, and the temperature should be going down but it scarcely has. It is now the middle of the month and it is still 28C. Another close friend, Diane, is here from London, celebrating her retirement from her high-powered IT job. Someone to talk to when Peter falls asleep on the sofa (see photo left).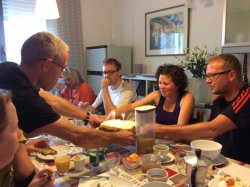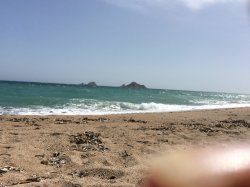 Today is Ulrike's birthday so I made a cake which went down well at breakfast even though we do not know the words of Happy Birthday in German (photo right). The weather is rather windy and a bit too rough to swim in the sea (photo left at Tancau). But tomorrow should be calmer. Some of our guests will be going kayaking in the morning and I will go too, in the afternoon, with two lovely women Liz and Jane who stayed last week.