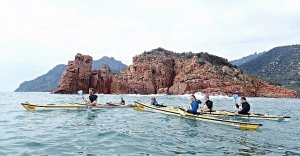 Finally we got in the kayak. Normally this is the first thing I want to do when I get back but the weather was not great and there was a lot to do. But on Monday we went as a group from the house, four guests, Peter, Francesco and I. It was quite sporty getting in… But none of us got very wet at the start. We kept quite far out from the rocks as there was quite a swell but it felt wonderful to be out in the fresh air at last. (See photo left in front of Su Sirboni, Marina di Cardedu)
We stayed down there at the Marina di Cardedu and Peter went off to check out one of his mountain bike rides. Our guests did the lovely Is Seddas walk, an interesting three-hour hike over the nearest hill. I stayed with Francesco chatting till Ada could get down from her job in the hospital and the three of us went out again in the kayak, the sea gradually calming as the day went on, Francesco keeping us in stitches with his silly stories.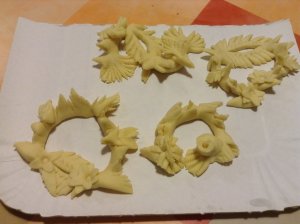 Ada had subscribed to a course in making the traditional Sard decorative bread "Pani Pintau". This is a bread which you can keep for some time made from semola, a type of grainy golden flour ground from hard durum wheat. The first lesson was this week so I decided to go along. The course was oversubscribed but some people did not turn up so the organiser let me join, I think she liked the idea of a Scot on the course. This week the teacher, a well known expert from Tertenia, brought the dough and we got to copy her shaping the traditional Easter breads, little circles with points and doves, with a special spot for your hard-boiled Easter Egg. I forgot to turn mine over at the correct moment so my doves were facing away from each other (see photo right). But apparently this is another type of design with a name referring to your mother-in-law I think she said…. Doesn't sound very PC to me….
Peter has has a bad tech week, our web site became inaccessible for a while and I had to get out the tranquilliser gun. But as usual with these things, it all came right with a few hours of waiting and patient restarting all the components.
We only have four guests so there has been very little to do in the house this week but at the weekend we start to get busy and from Sunday the house will be full.