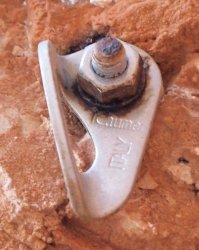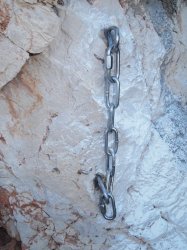 At the Porto di Santa Maria Navarrese only the 7b "To Peter" was bolted with standard 304-A2-grade stainless steel expansion bolts and after 30 months its bolts which showed signs of rust (see photo left) have been replaced with 1.4462 duplex stainless steel glue-in bolts from Bolt Products 1.4462 is the most corrosion-resistant steel currently available, even more resistant than 316/316 L-A4 "marine" stainless steel. The stance of "To Peter" consists now of two 1.4462 bolts connected by a 316-A4 DIN763 chain and 316 maillons (see photo right). 1.4462 chain is not available, so we use 316-A4 chain and maillons, which you can always change. Changing the bolts glued into the rock is MUCH more difficult!
As soon as possible a third 1.4462 anchor point will be added to existing stances at the Porto di Santa Maria with a lower-off maillon and all three points joined. If you find a stance like this, it has been modified for these safety reasons. If rope has been used to join the bolts, don't remove it!
At other sea-side Sardinian crags you may find similar modifications to French stances have been carried out in the near future. Over time and as our bolt fund permits (Contributions welcome 🙂) we intend to make available 1.4462 material or equivalent for the rebolting of seaside routes near The Lemon House (at the Porto di Santa Maria, and the start of Abissi).
While it is true that salty air can penetrate well inland, and you should always inspect bolts before relying on them (READ THE UIAA WARNING), the 304-A2 grade stainless steel bolts at other local crags such as Villaggio Gallico and Punta Giradili which are only a few km from the sea are like new, and the galvanised bolts at Campo die Miracoli are also fine. So it's incorrect to say that all crags near the sea are risky: the major problem appears to be at sea-side (and sea level) crags. Make sure you back up anchors when lowering off, that's the message!
For the first post on this topic, click here.