Pietra di Luna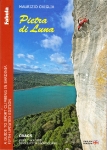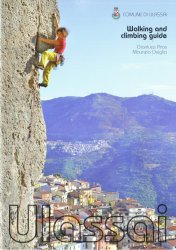 The 5th edition of Maurizio Oviglia's beautiful guidebook Pietra di Luna, see left, which Peter translated from Italian to English, was published in October 2011 and is on sale at The Lemon House for €50. Just reading this makes you impatient to start climbing in Sardinia! This 600-page guide covers 3600 Sardinian SINGLE PITCH sport climbs (NOT multi pitch routes, for which the 4th edition remains the main reference, except for 3 routes on the Aguglia di Goloritzè and the odd other MP route, no bouldering either). You can order it from Cordee and Climb Europe in English £49,95. ISBN 978-888966118-5. Main developments since the publication of Pietra di Luna up to the end of 2012 are described in this Climbing in Sardinia – Updates 2012 article written by Peter. A free update guide for Ulassai was publshed in October 2014. 220 routes compared to 121 in Pietra di Luna, see photo right.

Map guide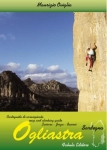 If you just want to climb single-pitch sports routes in Ogliastra, there's the cartoguida (map guide) with 570 single-pitch routes in Ogliastra published in March 2008, see cover right. This contains most of the routes in the 2011 Pietra di Luna. You can order it (ISBN 978 888966110 9) from Cordee for £17,95 or you can buy it at The Lemon House for €14. For our guests, we add details of new routes and give you a couple of new topos, such as for Su Telargiu Oro. Or buy the map guide and the 4th edition of Pietra di Luna together from us for just €31: very good value for up-to-date info on most of the Ogliastra crags as well as on multi-pitch routes.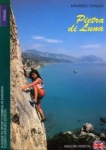 We can help you with information about newer, multi-pitch routes not covered by the 2002 edition of Pietra di Luna as well as new routes and crags not included in the 5th edition of Pietra di Luna, such as Dinopoark at Pedra Longa, a good sector for when it's raining.
December 2014 New Pietra di Luna multipitch routes published!!
Bouldering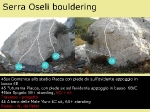 Peter has developed many of the boulder problems at Serra Oseli. You can download a topo from the Bloccobirra web site, and an update to this here. The Bloccobirra site also has topos for other bouldering areas.
Deep Water Soloing DWS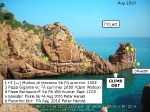 As well as the bouldering, there are some topos available for the Deep Water Soloing, such as the one on the left for Cala 'e Luas. We are keen to develop more DWS, especially in autumn when the water is still warm and falling in does not seem to be a hardship. Just remember to bring some old shoes….