Mountain biking in Ogliastra, Sardinia means cross country XC trails and singletrack, and technical "alpine" All Mountain singletrack, all on great natural trails next to the Mediterranean's finest coastline! One UK visitor commented that the singletrack descent to Cala Sisine (see video on right) was the "best descent I've ever done, even better for being natural". A Slovenian said the 1000 m vertical descent singletrack from Olinie (see video below) was a "singletrack worthy of the Alps".
<
Peter has taken up mountain biking with a vengeance, and as well as descending the windy singletrack trails, he loves to find and document in detail new routes, and has worked hard to be able to describe the type of riding so visitors know what to expect. We simply show people videos of the rides they can do! See The Lemon Houses's YouTube videos and Mountainbike Ogliastra's YouTube videos for videos of rides.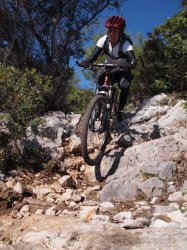 There's a range of routes, from easy cross country rides in the valley and in the rolling forests on the granite hills to rocky, technical singletrack climbs and descents suitable for All Mountain riders on the limestone Supramonte. Our initial instincts, that this area could be much better developed for mountain bike riders has been confirmed and now we can say that we know that Ogliastra is a terrrific place for this sport. In summer 2010 Peter was one of the founders of mountainbike Ogliastra and by March 2011 he had finished documenting 25 of the best routes in Ogliastra, of all levels of difficulty, for the Versante Sud guide to mountain bike routes in Sardinia.
Type of riding
Mountain biking around where we live in Ogliastra, Sardinia is likely to be very different from what most northern Europeans (the majority of our guests) find on their doorstep.
Unlike some other countries, in Sardinia there are no laws which prohibit mountain bikers from riding on footpaths. So there are tonnes of great singletracks and we ride (or try to!) all the footpaths, except the very popular walking route to Cala Goloritzè, which we leave for the many walkers to avoid conflicts, and because you have to push back uphill for 90 minutes after a 15 minute descent
The riding is different to a UK trail centre. On the All Mountain rides, you have tight 'alpine' switchbacks and sharp and loose rocks you don't find on a black run
There is almost no mud!, and you can often ride all week without washing your MTB. From May to October it hardly rains, and even when it rains heavily the

water soon drains away, though the flash floods do destroy the mountain dirt tracks where they cross the river beds, and many smooth tracks will have rocks exposed after rain. The video on the right shows the unique combination of shepherds' trails, muletracks and singletrack that you'll find here in Ogliastra.

There are no trail centres, nor maintained singletracks…you have instead are easy rides in the valley and in the rolling forests on the granite hills along relatively easy Forestry tracks suitable for 4WD vehicles, or the shepherds' 4WD tracks on the Supramonte. Singletracks: choose from the loamy forest trails and "Isola di Sentieri" paths, and rocky,

technical singletrack climbs and descents along old muletracks made by shepherds and charcoal burners and suitable for good MTBers on the limestone Supramonte. The only waymarked route (in 2006) should have been the T-track (T stands for trasmudas in sardo, transhumance). See details of the T-track MTB route here.

There is a lot of climbing! Within 8 km of The Lemon House the ground climbs up to 700m, and so you soon find yourself on steep climbs or (more fun unless you are Peter, who with his road biker background and skinny bod prefers climbs!) descents. We give people a lift up to the plateau above Baunei, or Arzana, Talana and Urzulei, in our 9-seat van (or take the bus) so that they can do rides which involve less climbing, and then roll back down. See these photo galleries
Sardinia mountain bike Arzana Villagrande
Sardinia mountain bike MTB / Mountainbike Sardinien / Sardegna: Arzana Villagrande
Sardinia mountain biking Urzulei Talana
Sardinia mountain bike MTB / Mountainbike Sardinien / Sardegna: Urzulei Talana
Some areas are very remote, with no mobile phone coverage and no-one there…occasionally you

may meet a shepherd or, in winter, a hunter. They are the only people who go to these places. You need to be good at navigating, using the IGM maps (best bought in the UK from The Map Shop), compass and GPS (we have GPS route information for the routes we've documented). We can suggest which of the documented rides are OK to do by yourselves, and which it's best to do with Peter or someone who's done them before, …or you can go exploring with Peter. See more on routes. The most remote rides are the one the Supramontes of Baunei and Urzulei. On this epic solo exploration, Peter met no-one and there was only a mobile phone signal at one point of the route
Sardinia mountain biking Cala Luna, Sisine
Sardinia mountain bike MTB / Mountainbike Sardinien / Sardegna: Cala Luna, Sisine
So, if you want to ride natural trails with your mountain bike and don't mind climbing, and fancy a dip in the sea afterwards, or maybe sea kayaking one day, Ogliastra and Sardinia is the place for you! You can ride these trails with hardtails, including those hired through The Lemon House, although to appreciate to the full the more technical All Mountain descents, you should bring a full suspension bike with at least 140 mm travel front and rear.

Mountainbike Ogliastra

With our friend Mauro from Baunei in June 2010 Peter formed the "Mountainbike Ogliastra" association to promote mountain biking in this part of Sardinia. In just a few weeks, our facebook group MTB Ogliastra (in Italian) had more than 100 members our videos had been watched hundreds of times, and the routes we've documented are translated into English on the Sardinia page of mtb-forum.it.

The MTB Rally di Sardegna

The MTB Rally di Sardegna, a 6-day "extreme but accessibile" mountain bike race with 400-500 km of riding and about 10-12.000 m of climbing, is held in Ogliastra each year at the start of June. Over the years we have helped promote the Rally. In 2009 Peter translated the website into English, and rode one of the stages. In 2011, together with our biker friends from Arzana who designed the stages, Peter accompanied the Dutch journalist Roland Jacobs of Fiets magazine to ride the first Arzana-Perda 'e Liana-Gairo stage, and Roland took some great photos which we'll use for the guide we're writing to mountain biking in Sardinia. The guide includes a "sample" Rally stage, taking the "special stages" (each stage consists of easier transfers before and after the more technical "special stage" over which you're timed) at Jerzu from the 2009 and 2010 races – the organisers sent us the GPS files and photos – and creating with some up-to-now-undocumented singletrack a circular route. Full details of the Rally at http://www.rallydisardegnabike.it/.