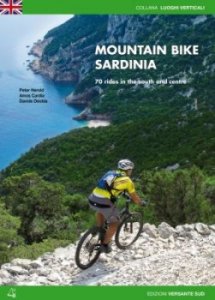 Mountain biking was one of the least-documented activities in Sardinia but we have fixed that! In December 2011, Versante Sud published Italian and English editions of the first guide for 20 years to mountain biking in Sardinia, authored by Peter and two Sard biker friends, Amos Cardia and Davide Deidda. You can preview it here. ISBN 978-88-96634-44-8. The guide has 70 rides in the South and Centre of the island, of which 25 are in Ogliastra, and gpx files for all the routes can be downloaded here. NB for smartphone users. The tracks are downloaded in zip format. You have to unzip them on a PC before sending them to your smartphone. Peter used all our route information, and designed, explored and rode for the first time (sometimes after repeated attempts…) 15 mountain bike routes.  Cordee in the UK are the main English language distributors. Since June 2015 the English edition has been sold out at the publishers and therefore no longer available. A new updated second edition will be published in June 2016, and before this date we can provide guests with details of the routes in our area described in this new edition.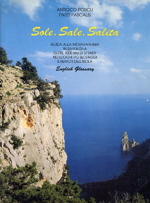 Previously, there was only the 1991 mountain bike guidebook, "Sole, Sale e Salita", which has been out of print and unavailable for a long time. The Regione Sardegna does publish a guide to MTB cycle touring around the island, using minor roads and "strade sterrate" (unmade roads) from one village to the next (A-B), though this isn't technical mountain biking nor are the rides circular A-A routes.
Maps
For mountain biking on Sardinia, we use a number of different maps:-
The best paper mountain bike maps for Sardinia are from the Istituto Geografico Militare . We have all the 1:25 000 and 1:50 000 maps needed for Ogliastra, and they are really excellent for detail and contours, although sometimes the footpath information isn't up to date and newer roads aren't shown… we can tell you where they are! See example right with a ride in Talana. If you want to buy them in advance of coming, the best place to buy them in the UK is The Map Shop, Upton upon Severn. They keep a number in stock, and it takes them about 6 weeks to order other sheets. Here is an interactive map finder to decide which maps you need. If The Map Shop doesn't have the required IGM maps in stock, it is also possible to order them from http://www.maps-store.it. There is an "English" button on the site, however the payments section is in Italian (though Steve who suggested this to us had no problems with the assistance of Google Translate). Minimum order quantity is 4 maps, and with shipping the prices are comparable to those from themapshop.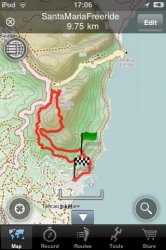 The best maps for outdoor sports in Sardinia are in fact digital, derived from OpenStreetMap. See the example on the right: even the IGM maps don't show the path from Santa Maria Navarrese along the coast to Pedra Longa! Various commercial applications add to this information for sports-specific use and distribute it in electronic form: Three possibilities to best use these maps:-
1. for people who are happy planning routes on a PC or Mac, download Openmtbmaps. Good integration with Garmin Basecamp for route planning.
2. for the increasing number of people who have smartphones or tablets with GPS functionalities, English guest Pete recommended the App OutDoors World Topo Maps – GPS for Hiking & Biking for iPhone, iPod and iPad from http://www.outdoorsgps.com A user-friendly browser interface lets you import GPX files and then load them onto your iPod or iPhone, like "Santa Maria Freeride" in the photo, and you can see routes other people have uploaded. Or MotionX GPS is one of the most popular Apps, also with OpenStreetMap (MotionX Terrain)-maps to download for use where there is no mobile phone network and to avoid data roaming charges. With this, you email your GPX file to you iPhone.
3. For those of you with an Android-Phone, http://www.openandromaps.org with the same OSM-maps is recommended.
During 2009 the Ente Foreste della Sardegna worked very hard to improve 76 of the island's mostly-inland walks (many of which are great mountain bike rides) and equip them with signs, and have published detailed descriptions in Italian and English of them in 12 maps. The project is called Un'Isola di Sentieri, An Island of Paths, and is one of the best such initiatives we've come across during all our time in Sardinia! As the map on the right shows, The Lemon House is ideally located for accessing these walks and rides, with four of the areas right on our doorstep: 4. Supramonte Ogliastrino 5. Gennargentu 6. Gennargentu Ogliastrino 9. Tacchi d'Ogliastra. You can download the maps and the brochure here. At The Lemon House we have lots of copies of the brochure and copies of the 4 nearby maps to consult but not to take away—they're too precious! As described in the brochure, each map can be picked up free from the local Comune or relevant Ente Foreste station.