Ogliastra offers some of the best road cycling in Sardinia and is ideal for training for a granfondo or sportive. The roads are well surfaced and very free of traffic apart from the high season in August. Even then, it is not busy.
Note that, contrary to what many people think, it's never really too hot for cycling. In the summer you can get up high early and there are plenty of springs for water. There is also nearly always a good breeze – Sardinia is one of Italy's windiest regions, rather like many parts of the UK.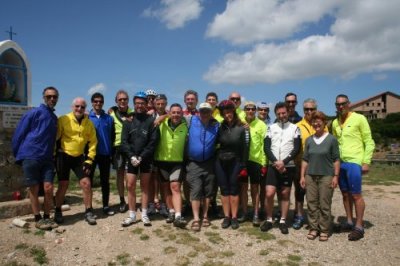 We visited this area for 4 years before moving here full-time in 2006 and can show you some great routes round the mountains or in the back roads around the coast. We have good maps and we know the cheapest as well as the best restaurants in the region…
When we first came here, we hoped to encourage many UK and Northern European cyclists to come here to cycle to benefit from the stable weather, as we do. The roads are good, there is little traffic and there is a good local cycling scene. But the lack of famous 'Cols' has meant only slow growth in the numbers of cyclists who come from abroad. But many Italian holiday-makers bring their bikes in summer and for a long season (April-September) there are local road races every Sunday morning. Peter is a member of the local SISA Cycling Team and encourages visitors to come out with him on these and other rides. Click here to get more information on the local road cycling scene and examples of routes.
The Giro of Sardinia is a unique event, a 7-day stage race, with an exciting mix of Gran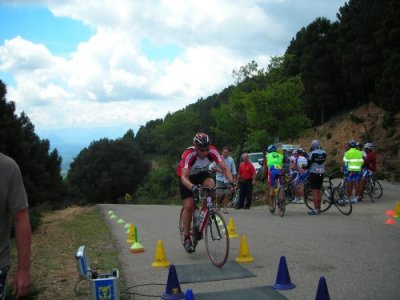 Fondo and both individual and team time trials, where Elite riders and 3rd cat riders can ride together.  In 2013 the Giro will be held Sunday 21 April-Saturday 27 April 2013, based at the Sighientu Life Hotel & Spa situated directly on the sea on the coast between Cagliari and Villasimius. Every day there is a stage of the race —or cycle touring for those not quite ready to race every day—with full medical and motorcycle backup. In past years we participated in the full week of the Giro and helped handle enquiries and race entries. Now (2012 onwards) The Lemon House is always full at the end of April, and our involvement is limited to translating the web site and Peter perhaps rides one (hilly) stage.
You can come and stay with us to train for next year's event!