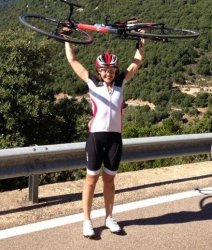 We help our road cycling guests with:
choice of routes, for serious and not-so-serious cyclists, like Jen in the photo on the right. She deserved her carrot cake after this effort 🙂
hire of roadbikes (for details see The Lemon House)
taking part in local road races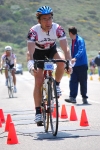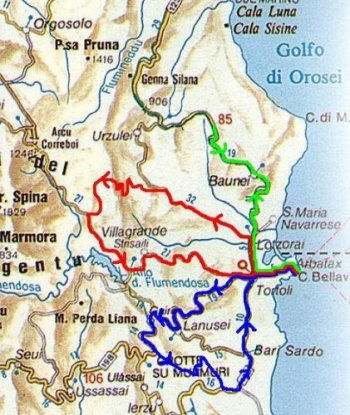 With his experience in the most famous granfondos (Marmotte, Fausto Coppi, Marco Pantani, Campagnolo, etc) Peter knows what makes good road cycling and what road cyclists are looking for. When we started our
"Sardinia Project", before we opened The Lemon House in 2007, we managed the English-speaking group at the Giro di Sardegna. In the photo on the left, Peter finishes one of the Giro's stages. Peter has documented lots of road cycling routes, see the map on the right. He was even out on his bike on New Year's Day 2006 (Click here to see the recording of height, distance, temperature and heart rate from that ride).
Ogliastra offers the perfect combination for road cycling: mild climate, well-surfaced roads with little traffic, varied countryside and the possibility to tackle "alpine" climbs (see for instance the climb to Talana) and descents to the Mediterranean. And after your ride, enjoy the nearby beaches! Note that, contrary to what many people think, it's never really too hot for cycling. In the summer you can get up high early and there are plenty of springs for water. There is also nearly always a good breeze – Sardinia is one of Italy's windiest regions, rather like many parts of the UK. "Five times better than Mallorca!" declared a visiting journalist. But despite this, in our first years on the island relatively few northern European cyclists visted Sardinia. All this changed in 2012 with the publication of Obsessive Compulsive Cycling Disorder. Author Dave Barter's accounts of tips and advice from more experienced Peter as he tackled his first granfondos led many road riders to discover Sardinia and The Lemon House. In May 2013 a group of road cyclists wrote on Tripadvisor: "We are 6 friends who have just returned from possibly the best 3 days we have ever spent on our road bikes. 2 of our group have cycled in France, Spain and Tenerife and still felt that Sardinia beat all of these cycling meccas." Or Fiona Russell blogged as she was preparing for her World Age Group Triathlon Champs, "I would like to move to this area of Sardinia simply to enjoy the tarmac!" We can make route suggestions not just for such keen riders but also for those who simply want to enjoy being outside on a bike. Anne often rides her Colnago a couple of times a week on the easier roads along the coast.
Local Cycling Routes and Races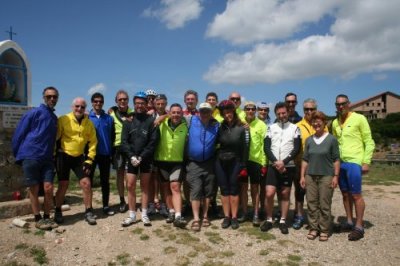 We visited this area for 4 years before moving here full-time in 2006 and can show you some great routes round the mountains or in the back roads around the coast. In the photo left, the 1017 m Genna Silana pass on the SS125 30 km north of The lemon House in Lotzorai. We have good maps and we know the cheapest as well as the best bars and restaurants in the region for your lunch stops. In Ogliastra there is a thriving local road-race scene.
From the end of April until the end of August there is a race every second Sunday with 40-100 participants from the whole of the east coast, from Olbia and Nuoro, and from as far south as San Vito. Women and kids take part as well and the atmosphere is great. Although Peter spends more time now mountain biking and we are often busy in with guests in The Lemon House, he always tries to make time to participate in these races. Even when he hasn't trained very much 🙁 See video on the right. The €5 entry fee more than repays itself in the prize that each participant receives!
Giro of Sardinia
The Giro of Sardinia is a unique event, a 7-day stage race, with an exciting mix of Gran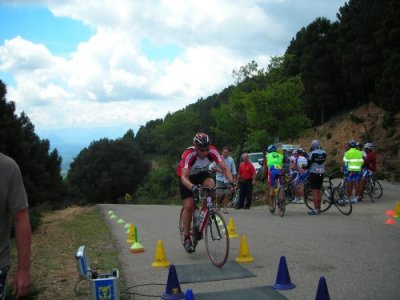 Fondo and both individual and team time trials, where Elite riders and 3rd cat riders can ride together. Each year the Giro is based in a different part of Sardinia. Every day there is a stage of the race —or cycle touring for those not quite ready to race every day—with full medical and motorcycle backup. In past years we participated in the full week of the Giro and helped handle enquiries and race entries. Now (2012 onwards) The Lemon House is always full at the end of April, and our involvement is limited to translating the web site and Peter perhaps rides one (hilly) stage. You can come and stay with us to train for and get tips for next year's event!