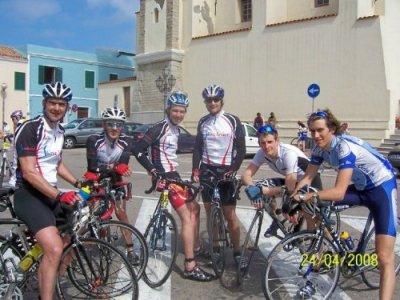 The Giro of Sardinia is organized by the non-profit association Mare & Monti of Cagliari which is a sports association. In the past, before The Lemon House was very busy in April, we used to close and participate the whole week, managing the English-speaking race entries and participation. Now we limit ourselves, on a volunteer  basis like the rest of the Mare & Monti people, to translating the web site information into English,  and answering English-speaking participants' questions. If we can, Peter comes to ride one or two of the stages, to see our friends among the participants and organisers. You make your own race entries directly with Mare and Monti, you pay them directly and organise your own transport. See a day-by-day blog of the 2008 race.
In 2013 the Giro will be held Sunday 21 April-Saturday 27 April 2013, based at the Sighientu Life Hotel & Spa situated directly on the sea on the coast between Cagliari and Villasimius. €550 for full board for 6 nights is a great deal. Race entry will cost: €150 men €100 women for people staying in the hotels, €50 extra for people not staying in the organisers' hotels.
Giro of Sardinia
Giro of Sardinia / Giro Sardegna
To book for the Giro, fill in the form here where there are all the bank details you need to transfer the money to Mare & Monti. Send the form and a copy of the bank receipt to them.