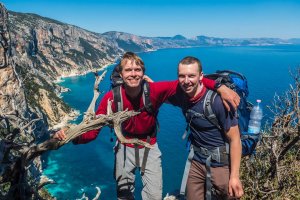 Walking in Sardinia is simply fantastic, and the Ogliastra region offers some of the best and most varied walks on the island, from a simple stroll along the sand with the mountains in the background to "vie ferrata"-like walks, such as the traverse of the Gorroppu Gorge, in the photo at top of page, to the Selvaggio Blu, "Italy's hardest trekking" but very satisfying – see Timon and Thomas smiling in the photo on the right 😄. Our aim in The Lemon House is to support our guests so that they can enjoy their walking holiday to the full.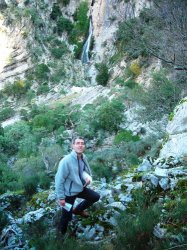 In the last 5 years lots of new hiking guides have been published, so that the landscape, while remaining wild and unspoiled, is much more accessible to walkers than it once was. Before that Sardinia had the reputation of being very difficult for walking, with no tradition of "going for a walk" and only a few routes were waymarked. There were no networks of paths, like you find for example in the Alps. In December 2007 Peter (with his broken arm, see photo left) and Anne walked from the south to Sa Guntura (Gola su Gorroppu). We followed the route description in the Italian guidebook "Guida dei Monti d'Italia Sardegna". The locals were amazed and asked us, "Who did you go with? Weren't you scared?!" and Peter answered, "With my wife Anne, the map and the compass. It was great!" The same walk is now waymarked and described on walking maps prepared by the Regione Sardegna, and there is even this video in English to describe it!
Many people start with the walks to Cala Goloritzè und the Gola su Gorroppu, which are recommended in this Lonely Planet article. But there are many others! We can advise you which are the best and most interesting walks according to your experience and interests. We can lend you a GPS with route information for free. For older people as well (Peter was born in 1964, Anne in 1954) and for families with kids there are suitable walks. We explain the routes and where you need to pay particularly attention. We can also arrange transport with RHIBs, for instance for the Selvaggio Blu or to walk from Cala Sisine to Cala Luna.
New walks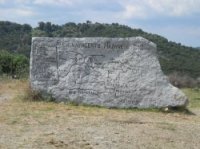 For the walking routes that are not yet described in walking guides, we can provide you with GPS routes and tracks, maps and detailed descriptions. For instance the walk from Arruinas (Arzana) to Punta La Marmora, Sardinia's highest point, which is both more interesting and nearer to drive to than the "normal" route from the Fonni side. At the turnoff there is a rough map inscribed on a large granite stone, see photo left.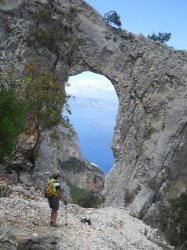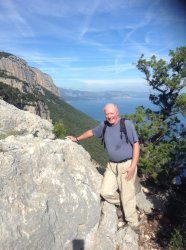 We were often asked if there were other walks to a "Cala" (sandy beach) apart from to Cala Goloritzè. We have several such suggestions for experienced walkers, such as (1) the walk from Golgo to Cala Mariolu (Ispuligidinie) , see the photo on the left (2) the more difficult walk to Cala Biriala, whose exposed sections are equipped with fixed steel cables or ladders, see photo right.
Sardinia Ogliastra Walking - Baunei
Sardinia Walking / Wandern Sardinien / escursioni Sardegna - Ogliastra - Supramonte Baunei Selvaggio Blu
We have a wide range of
walking books
and
maps
in the house for use of our guests.