Walking in Sardinia is fantastic, and the Ogliastra region offers some of the best and most varied walks on the island, from a simple stroll along the sand with the mountains in the background to one of the most challenging walks in Italy.  
Sardinia Ogliastra Walking - Baunei
Sardinia Walking / Wandern Sardinien / escursioni Sardegna - Ogliastra - Supramonte Baunei Selvaggio Blu
Full Range of Walks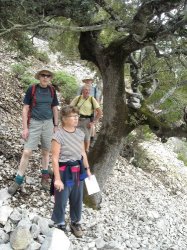 Lotzorai is 1.5k from the sea, so an easy walk is to make the 6km circuit of the village with one leg along the beach. Then there are several walks which start at Santa Maria Navarrese along the coast to Pedra Lunga, a spur of rock rising 128 m out of the sea which features in many of our photos and which is a natural monument. Or you can climb above Santa Maria and go round the mountains to the north of the town, Monte Scoine and Monte Oro, walks which have spectacular sea views as you climb to 620 m. At the other extreme, there is the "Sentiero Selvaggio Blu", a 6-day expedition involving climbing and abseiling, which starts at Santa Maria and goes up the coast over very challenging terrain.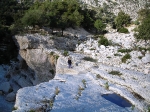 There are many other walks with challenging route finding and steep terrain, as well as walks on the Gennargentu mountains overlooking Ogliastra. The highest point, Punta La Marmora, 1834m, is reached by an easy walk but in summer do take enough water for a 5-hour round trip. We failed to do this when we went…Although it's hot in summer, just as for cycling and climbing, walks at 700m+ and/or in the deep gorges, or on the coast with a sea breeze, are possible even in the height of summer.
Sardinia Ogliastra Walking - other coastal walks
Sardinia Walking / Wandern Sardinien / escursioni Sardegna - Ogliastra - other coastal walks / Wanderungen an der Ostküste / lungo la costa orientale
Help with logistics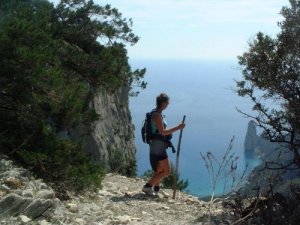 We can help walkers choose walks, with logistics (pickups/dropoffs, one-way or to do only part of a walk, or avoid the section on asphalt roads) and can also make some suggestions on easier walks, suitable for people with young children and/or for older people. We often accompany guests on those walks not described in the English guidebooks and/or where route finding is a bit tricky, or can explain the "crucial" bit of route-finding for a walk. We can also arrange for you to be dropped off by boat, eg to walk from Cala Sisine to Cala Luna and then Cala Fuili at Cala Gonone.
We have a wide range of walking books and maps in the house for use of our guests.