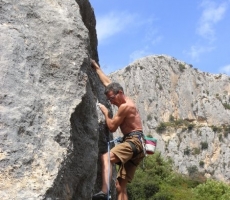 Ogliastra is one of the newer areas for climbing in Sardinia. Peter's enthusiasm for bolting new routes and finding new rocks to climb means that within an hour's drive of The Lemon House there are around 750 single pitch sport climbs and 60+ multipitch routes , as well as bouldering and DWS.  With crags from sea level to 1100m and of all orientations, in Ogliastra you can climb all year round. In particular, Ogliastra is particularly suited for climbing in Sardinia in summer, with high mountain crags near the coast which stay cool even when it is very hot by the sea. You can enjoy a family holiday going to the beach in the morning and then climb in the afternoons in the shade up on one of the nearby mountain crags,  as you can see in our videos, often in a beautiful setting. There are also great crags for climbing in winter in the mild Sardinian climate. See this enthusiastic 2011 article which just makes you want to book your flight, and that was BEFORE the new guide was published! See also the climbing page on the site of the Provincia dell'Ogliastra for a description of the crags and climbing guidebooks.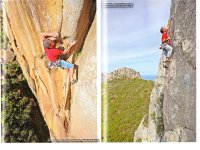 "This area is starting to seriously threaten Cala Gonone as the principle area of Sardinia for visiting climbers. Not least because Baunei is very near to the crags of Urzulei and no more than half an hour by car from those of Jerzu/Ulassai, which means a huge choice in the space of a few km…" says the 2011 Pietra di Luna guide which includes photos (Peter's posing…) less than 5 km from The Lemon House. Cala Gonone is 90 minutes drive from our house but it is sometimes busy, a bit polished and hot in summer; Domusnovas and Isili are other important climbing areas but they're not by the sea. But here in Ogliastra you often you have the crag to yourselves and by choosing the right altitude and crag orientation you can climb all year round like we do, and go for a swim or sunbathe afterwards!
Sport Climbing in Ogliastra
The main areas are:
Baunei crags—only 10 minutes from our accommodation!  250 single pitch sport climbs on fantastic limestone, with 20 4's and 5's through to  French 8b+/c overhanging testpieces at Monte Scoine,  Monte Oro, Villaggio Gallico, Creuza de Ma , Campo dei Miracoli, Braccio di Ferro, The Lemon House, Su Telargiu Oro and Santa Maria Navarrese, a small crag right by the port with lots of  easier climbs.  10 minutes' drive from our accommodation .  We even have a granite crag; Lucertole al Sole, with 20 routes only 10' walk from the house!
Baunei-Urzulei
Baunei-Urzulei: N Ogliastra sportklettern Sardinien / Sardinia climbing / arrampicata Sardegna
Jerzu & Ulassai Two crags (Castello and Isola del Tesoro) facing west and one (Palazzo d'Inverno) facing east at 450m altitude, with over 200 single-pitch sport routes mostly from 6a upwards with steep, fingery and technical climbing on superb rock at Jerzu. 45 minutes' drive from our accommodation . At Ulassai the Cascate di Lecorci has similar standard climbs, with the very popular 'Canyon' (gorge)  offering quite a few easy routes  (French 5b and c) through to several 8a/8a+'s. There is a new steep sector, the Cave of Dream, facing NW.
Jerzu-Ulassai-Quirra single pitch sport climbing
Jerzu-Ulassai-Quirra single pitch sport climbing Sardinia / arrampicata Sardegna / klettern sardinien
Quirra A sun-trap in winter overlooking the river valley, an hour or so from the house. From 4c to 8c, slabs to OHs. Too hot in summer but with full sun and out of the wind, a great location in winter.
Multi-pitch Climbing in Ogliastra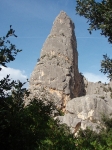 Most people come to climb single-pitch sports climbs in Sardinia.  But the multi-pitch routes are another world, frequently taking you into beautiful and remote settings. Many people say one of the many differences between Sardinia and Kalymnos are the multi-pitch climbs here. Near Baunei, there are long (6+ pitches, 140-400m) harder (a few 5c obligatory, most 6b obl or higher) routes on the Aguglia pinnacle at Cala Goloritzè, Punta Argennas, Punta Giradili and Monte Ginnirco.
The most popular route on the Aguglia is Easy Gymnopedie F6c, F5c obl, see photo on the right. Peter has diligently analysed all possible information sources to build up a "ticklist" of multi-pitch routes which he is gradually working through, and has a big fat folder of information and topos…tell him what max and "obligatory" grade you are after and his table will spit out a list of routes for you to do, by season!  With the walk in and out, and the "Alpine" rock climbing and abseil descents, these are long, satisfying days out you won't easily forget.

multi-pitch Sardinia climbing Giradili, Oronnoro
multi-pitch Sardinia climbing / mehrseillängen Sardinien / multipitch Sardegna: Giradili, Oronnoro
multi-pitch Sardinia climbing Goloritzè
multi-pitch Sardinia climbing / mehrseillängen Sardinien / multipitch Sardegna: Goloritzè
multi-pitch Sardinia climbing Urzulei
multi-pitch Sardinia climbing / mehrseillängen Sardinien / multipitch Sardegna: Urzulei
Bouldering
Near The Lemon House in Lotzorai there are many granite boulders which Peter explored in 2008, producing a little guide for our guests' use. There are also some good boulders just near our apartment in Porto Frailis. The best bouldering, though, is 45 minutes' drive away, on the superb limestone boulders at Serra Oseli. You can download the guide from the bloccobirra site and the update with lots of problems we've climbed here.
Deep Water Solo DWS
The best Deep Water Soloing (DWS) we have so far developed in Ogliastra, Sardinia is at the Vascone (big pool) south of Cala 'e Luas at the Marina di Gairo where we go kayaking all the time and so have eyed up all the crags. SUPERB granite, easy access on foot and, above all, deep relatively-sheltered water and easy climb-out make this is great place to try DWS for the first time. Lots of people ask us about the coast north of Santa Maria. This has massive potential, but you need a boat for access. The water is warm until November, though…

DWS Deep Water Solo Golfo di Arbatax-Orosei
DWS Solo Deep Water Sardinien / Sardinia / Sardegna Golfo di Arbatax-Orosei
New routes
We have developed several new sectors, with bolts bought from The Lemon House's bolt fund to which our guests contribute. Our first new routes date from 2007 when we began developing the crag called "The Lemon House" with our friend and guru of Sardinia climbing Maurizio Oviglia. Anne and other friends have joined Peter to bolt some easier routes (grade 4-6a) near to The Lemon House. Ogliastra lacked a shady, high-up cave for hard, steep summer climbing, and in the period 2008-2011 we fixed this, developing the Su Telargiu Oro cave, which currently (Sept 2012) has 38 routes, 33 from 6a to 8b+/c and 4 still to be freed. In the winter of 2011, we helped our Czech friends add 18 routes to Monte Oro. Then in September 2012 we continued development of the new "Dinopark" sector on the east coast of Sardinia only 30 minutes door-to-door from the The Lemon House: 15 minutes by car to Pedra Longa then 15 minutes' walk. If you want to climb steeply overhanging tufas 7a – 7c+ this ist he place for you! Check out Tomas and Jan in the great video on the left! Topos here. Ideal in autumn, winter, spring. The latest new sector (Winter 2012) is Planu 'e Murta near Cala Sisine.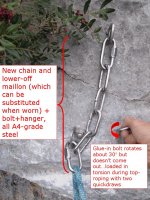 As important as new routes, we also maintain existing routes, and from summer 2012 are upgrading routes by the sea with bolting using more corrosion-resistant steel, see our blog posts on this important issue 1 and 2.
You can find glue-in bolts which you can turn a little, due to the glue depolymerising. You find this particular with the lower bolt at a French stance, since it's subjected to torsion during top-roping. In the photo on the left, one such lower-off has been repaired

.
In The Lemon House, we have Climb On cream for sale, as well as some very cool Italian climbing clothes designed for and by climbers, the DOGMA range.