Ogliastra is Sardinia's wildest and most unspoilt region. The mountains rise to over 1000m within just 20 km of The Lemon House within sight of the beautiful coastline. This is a paradise for active outdoor holidays, and you can enjoy a beach holiday as well! Our mild climate lets you enjoy these activities all year round, including in the height of summer.
Climbing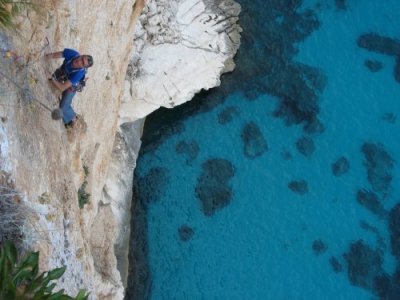 Enjoy year-round Sardinia climbing in spectacular settings. Ogliastra is one of Sardinia's newer climbing areas, with 700 single-pitch climbs, 60 plus multipitch climbs, bouldering and DWS within an hour of The Lemon House. Many of the routes were bolted by Peter and his friends. Choose grades from 4 to 8c+, and altitudes, climbing style and crag orientation to satisfy everyone.
Mountain biking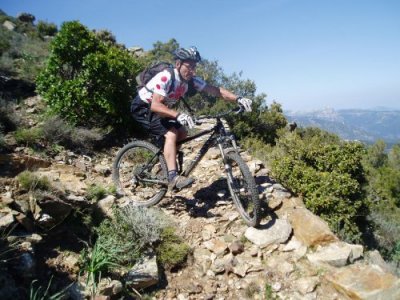 Peter started mountain biking in 2008. By 2011 he'd learnt to ride the challenging ascents and descents you find here, had helped found Mountainbike Ogliastra and had championed and co-authored the first mountain bike guide to Sardinia for 20 years, which includes 25 routes in Ogliastra. We can advise on routes, give you route descriptions and Peter can come with you on rides.
Road Cycling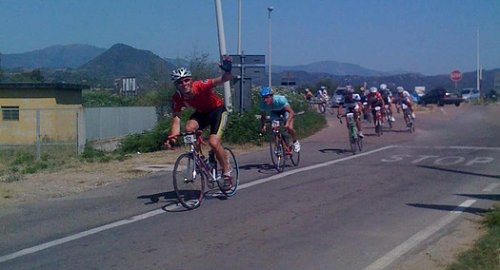 Ogliastra is great for road cycling, with traffic-free roads, fabulous scenery, climbing from sea level to 1000m in just 20 km and technical descents on good surfaces. From May to August, local road routes for you to participate in, or in April join us for the Giro of Sardinia stage race. Or cycle with Anne on an easier ride down the coast.
Walking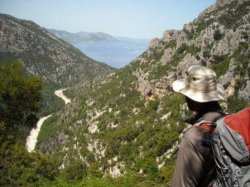 From easy coastal walks to rugged terrain up to 1800m, with snow in winter, and Italy's toughest trek, the Selvaggio Blu, Ogliastra offers some of the most varied walking in Sardinia.
We have walked many of these routes, helped authors to document walks for their guidebooks to Sardinia and have a wide range of guidebooks and maps for the use of our guests.
Kayaking
The beaches in Ogliastra are famous throughout Italy for their beauty and cleanliness, and the coastline is perfect for sea kayaking. Anne goes kayaking every other day in summer and often takes our guests along.
Our Accommodation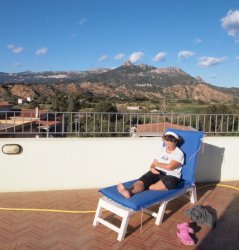 Our guesthouse The Lemon House lies at the foot of these fantastic mountains where we go walking, climbing and biking – see photo right – and only 1,5 km from the sea with its lovely beaches for sunbathing and swimming. Our small town Lotzorai is on the east coast of Sardinia, on the SS125 main road. We offer Bed and Breakfast accommodation for €30-36 per person per night (slightly more in high summer) and FREE all the support to make the most of your holiday, from a wifi network to lifts up into the mountains with your mountain bike and climbing beta. We also offer self-catering accommodation in nearby Porto Frailis, Arbatax and can offer help to get here and advice on where to fly to.
What most people don't know is that Sardinia has a fascinating prehistoric culture to explore. Perfect for relaxing after a morning's sport. Our mild climate lets you enjoy these activities all year round. In summer you simply go higher or seek out the shade, in winter you stay by the coast in the sun.